VESL 1 (Vocational)
CLASSES IN WASHINGTON D.C. OR ONLINE THROUGHOUT THE US*
No matter what language you speak, Career Technical Institute's Vocational English as a Second Language (VESL 1) classes can help you learn English so you can communicate better, both in your personal and professional life. Learning English will help you increase your confidence, express yourself better and help you get an exciting new job or advance in your current career. Just let us know if you want your VESL 1 classes at our Washington D.C. campus or fully online throughout the country.*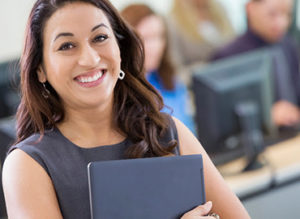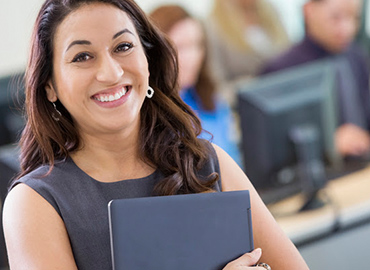 The world needs individuals who can communicate effectively with people of different nations. CTI's VESL 1 program covers the four language skills: listening, speaking, reading, and writing.  The focus of the program is on both fluency and accuracy as well as the development of linguistic and communication skills. CTI's VESL 1 classes offer flexible scheduling, allowing students to complete training within 36 weeks attending day sessions, 50 weeks attending evening sessions, or 60 weeks attending weekends. Each student can choose between campus and online classes.
CTI's VESL 1 classes and program instructors employ techniques which leverage English grammar tools to help students learn English. CTI instructors use fun repetition and demonstration techniques to engage students and create a fun learning environment. For example, regardless of a student's native language, images or photos can help students with word association. Also, depending on progress, CTI's VESL 1 instructors will use other methods and tools so all students, regardless of background, learn English as quickly and effectively as possible.
Take advantage of every opportunity to practice your communication skills so that when important occasions arise, you will have the gift, the style, the sharpness, the clarity, and the emotions to affect other people.
– Jim Rohn
CTI offers several levels of English courses within the VESL 1 program:
Introduction to English as a Second Language
Beginning ESL
Intermediate ESL I
Intermediate ESL II
Advanced ESL I
Advanced ESL II
For those wanting to take ESL individual courses either at our campus or online, ask about Career Technical Institute's course by course opportunity versus the entire VESL 1 program. Whether you choose the VESL 1 program or the ESL course by course option, Career Technical Institute ensures your language training is enjoyable, comprehensive, and effective.
Advance your career and personal life with VESL 1 classes! From getting the job of your dreams to getting the promotion you want, there is no limit to what VESL 1 learning can offer you.
There are financial assistance and financial aid programs available to those who qualify – learn more!
*except for CA