Hire a Career Technical Institute Graduate
Employers Can Partner with CTI
Employee turnover can be a costly nuisance to any employer. The time it takes to recruit, interview, and train new employees often cause employers both operational and financial strain. In addition, as the economy improves, and the job market grows, employees have more job options, which can make employee retention difficult.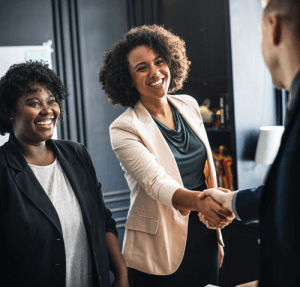 However, an Employer Services Program can help employers overcome some of these challenges. Career Technical Institute (CTI) is committed to helping employers recruit qualified candidates to fulfill their employment needs. At CTI, we take great pride in helping companies fill empty employment posts with skilled and dedicated CTI graduates, well versed in the Medical, IT, Hospitality and Office Admin fields. We guide students from beginnning to end. All the way from the start of the admissions process to the job search process after graduation.
Experience and Expertise
Our experienced staff develops and maintains close working relationships with our business partners to identify recruitment needs. Our Career Services staff members will take time and consideration to match your specific job requirements with the skills of our IT, Medical, Hospitality and Office Admin trained graduates.
Employers gain a number of benefits from using CTI's Employer Services Program:
Receive screened matches for your open positions
No cost or fees to employers, students or graduates
Work with a friendly and experienced CTI staff member to satisfy your hiring needs
Utilize well-trained students as externs or interns
Efficiently fill your empty job posts
Plus, with CTI's Employer Services Program, your company will receive a Personalized Employer Hiring Plan that will include:
A cost-free, efficient recruitment process with nationwide access to graduates
A streamlined hiring process with pre-screened, qualified candidates
Specialized Recruitment Events: open houses, career fairs, customized recruitment days, and training workshops
Corporate Training
CTI's course offerings include high demand titles which can be further customized for your corporate training needs. Ensure your employees are keeping their skills up-to-date with the most recent version of the most popular desktop applications. Training is available to your employees on an ongoing basis. Your company can offer professional development as an employee incentive, giving them access to sharpening their business skills with Office Training, Business Writing, Accounting Fundamentals, and Customer Service.
Event Hosting
Offsite corporate training and company gatherings can provide great value to your corporate goals. Enjoy our conveniently located, fully equipped event hosting environment for your training and/or meeting needs. With over 11,000 square feet on Vermont Avenue, and just minutes from the White House, you can choose from a large classroom to a smaller conference room for your business conference needs.
If you are interested in learning more about CTI's Employer Services Program, please don't hesitate to contact us. You may also fill out the form on this page.