Hospitality Training
Train for a job in hospitality and tourism
Globally, the hospitality and tourism industry continues to grow at a solid pace. Now is the time to consider a high-growth and diverse career in hospitality and tourism. With training at Career Technical Institute (CTI), you will get the skills you need to be promoted through the ranks. CTI offers both an Associate Degree of Applied Science in Hospitality as well as a Certificate in Hospitality.
Almost every country in the world has a hospitality industry with open job positions. Hospitality training with CTI can mean a great future in hospitality with many lucrative options to work locally, nationally, or even internationally. Plus, most jobs in hospitality and tourism offer flexible work hours as well as travel perks.
The Hospitality Program at Career Technical Institute offers fun and exciting individualized hospitality learning experiences that use a combination of knowledge learning and hands-on experience with hospitality subjects. CTI's hospitality program can be completed in as little as 28 weeks attending day sessions or just 42 weeks attending evening sessions.  Graduates will be equipped with rich knowledge and relevant skills that can be applied in any number of hospitality disciplines.
CTI's  Hospitality Program is also offered online nationwide (except California). CTI's online educational program consists of a web-based course management and collaboration portal that enables educators to manage course materials and to communicate with students.
Career Opportunities
CTI's Hospitality Training Program focuses on Microsoft Office training, food service, hotel management, travel and tourism, point of sales, administration, business communications, business etiquette, customer service, and customer communications. Plus, you will gain employment skills. CTI offers support for job search assistance that can help you find the job of your dreams, anywhere in the US and even the world!
Learn more about CTI's financial assistance programs for qualified applicants!  Our CTI staff is waiting to help you through the application process and explain all the financial aid options available to you.
If you would like to learn more about CTI's Certificate in Hospitality Program, click here. You can also use our net price calculator for an estimate.
Get a Hospitality Degree
The Associate of Applied Science in Hospitality Program at Career Technical Institute (CTI) is designed to position students to qualify for the best jobs in the hospitality industry, particularly leadership roles, such as hospitality management jobs. This program will allow students to learn theoretical and practical hospitality management skills, hospitality business law as well as food and beverage management. Students also develop skills in marketing, purchasing, budgeting, and cost control.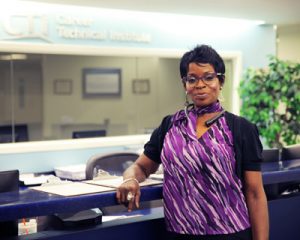 CTI offers a fun and stimulating learning environment with energetic and lively instructors who enjoy teaching and interacting with students. CTI offers flexible scheduling with both day and evening hours available.  Attending day sessions, most students complete training within approximately 60 weeks. Attending night sessions, students will complete the program in about 84 weeks.
Read More
There are financial assistance and financial aid programs available to those who qualify – learn more!