VA Education Benefits for Veterans and Active Duty Service Members

Online Training for Veterans and Active Duty Service Members Available
Each year, hundreds of thousands of active duty service members and veterans choose to take advantage of VA Education Benefits while actively serving or go back to school after their military service. For many, it's the single best way to increase a post-military quality of life. Career Technical Institute (CTI) is proud to support Active Duty & Veterans with a variety of training at our Washington, DC Campus or online, throughout the country. (except CA)  CTI is approved for the Veteran Rapid Retraining Assistance Program (VRRAP) offering education and training for high-demand jobs to Veterans who are unemployed because of the COVID-19 pandemic.
>> Top 5 Questions about VA Education Benefits
>> How to Use Your GI Bill® for Certification and Training
CTI offers a variety of career training options:
Online Classes
CTI also offers online classes with web-based course management and collaboration portal for distance learning. Using the Portal, students can access their courses, interact directly with their Instructor, attend lectures, and benefit from a variety of e-Reference materials, all of which are available 24/7. So whether you are actively serving in the military or working full-time, part-time, or in between opportunities, we are here to serve you.
Why CTI
CTI is accredited by the Council on Occupational Education and is a registered school operating under a license from the District of Columbia (DC) Higher Education Licensure Commission (HELC). Veterans who attend CTI and meet completion requirements may earn either a Diploma from a certificate program and/or an Associate Degree of Applied Science from a degree program. CTI provides hands-on training and placement assistance in various fields, including information technology, healthcare, hospitality, office training, human resources, and more.
Valuable members of society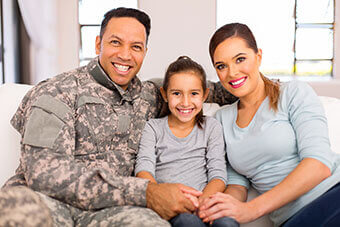 Veterans and active duty service members spent years defending the nation and fighting for the common good. They are the backbone of our country. CTI aims to help veterans and active duty service members transition back into civilian life and move on to the next chapter in their lives. They have learned valuable skills and life experiences during their time in military service. CTI is here to help them take the next step towards a brighter future.
Active Duty Tuition Assistance Rate Per Hour
VA Education Benefit Options
Career Technical Institute is approved by the Veterans Administration GI Bill® to enroll students under the following Chapters. To learn more about these benefits, please visit https://www.va.gov.
Chapter 30 Montgomery GI Bill®
This education benefit, also called "MGIB" or "MGIB-AD", provides up to 36 months of full-time payments to eligible veterans and active duty service members for approved education and training programs. To be eligible for this program, you must have received an honorable discharge and contributed to the Buy-Up Program. Benefits are generally payable for 10 years following your release from honorable active service.
Chapter 31 Vocational Rehabilitation & Employment Service
If you have a service-connected disability that limits your ability to work or prevents you from working, you may qualify for the VA Vocational Rehabilitation and Employment (VR&E) program. To be eligible, you must have received an honorable discharge and have had a service-connected disability rating of at least 20% (or 10% if it is from severely limiting in physical abilities) from VA. Your basic period of eligibility ends 12 years from the date you received notice of your date of separation from active military service or first VA service-connected disability rating.
Chapter 33 Post 9/11 GI Bill®
If you qualify for this program, you can receive funding for public or private education. You must have received an honorable discharge to be eligible for the Post-9/11 GI Bill®. The Post-9/11 GI Bill® is for individuals with at least 90 days of aggregate service on or after September 11, 2001, or individuals discharged with a service-connected disability after 30 days.
Chapter 35 Survivor's and Dependents Educational Assistance Program
This program provides education and training opportunities to eligible dependents and survivors of certain veterans or active duty service members. Participants include a dependent child between the ages of 14 to 31 and/or a spouse, or surviving spouse, who qualifies for the benefit. You may be eligible for this program by the Regional Processing Office (RPO) because of one of the following:
The veteran's death was caused by the service-connected disability
The veteran is rated for total and a permanent service-connected disability
The service member is Missing in Action (MIA)
The service member is captured in the line of duty
The service member is forcibly detained for longer than 90 days
The service member who the VA determines has a service-connected permanent and total disability that will result in a discharge from military service
Chapter 1606 Montgomery GI Bill® Select Reserve
To be eligible for this program, you must have completed one year of original enlistment and have completed basic training in the National Guard or Selected Reserves. You must also be actively serving on a six-year commitment with the National Guard or Selective Reserve unit.
Chapter 1607 Reserve Educational Assistance Program (REAP)
To be eligible for this program, you must be a member of a reserve component and you must have been on active duty on or after September 11, 2001, under title 10, U.S. Code, for at least 90 consecutive days under a contingency operation. Eligibility for this program ends when you leave the Selected Reserves.
Veterans Rapid Retraining Assistance Program (VRRAP)
The Veteran Rapid Retraining Assistance Program (VRRAP) offers education and training for high-demand jobs to Veterans who are unemployed because of the COVID-19 pandemic. Keep reading to find out if you're eligible and how to apply.
Eligibility Requirements
To apply, veterans must meet these requirements:
At least 22 years old, but not older than 66, and
Unemployed because of the COVID-19 pandemic, and
Not eligible for GI Bill® or VR&E benefits (or, if you're eligible for the Post-9/11 GI Bill®, you've transferred all of your benefits to family members), and
Not rated as totally disabled because you can't work, and
Not enrolled in a federal or state jobs programs, and
Not receiving unemployment benefits (including CARES Act benefits)
If eligible for VRRAP, veterans in the training program will have their tuition and fees paid by the VA directly to the school. Veterans will receive a monthly housing allowance that is calculated based on the same rate as it is for the Post 9/11 GI Bill®.
Click here to begin the application.
CTI Approved Programs
Benefits are for programs up to 12-months. CTI welcomes eligible transfer credits up to 49% of the CTI Certificate or Degree program. Military students may not be eligible for the CTI scholarship-please speak to an admission advisor for more details.
Contact CTI's military team regarding programs approved for veteran benefits. Fill out the form on the right or call 888-516-5339 today.
GI Bill® is a registered trademark of the U.S. Department of Veterans Affairs (VA). More information about education benefits offered by VA is available at the official U.S. government website at http://www.benefits.va.gov/gibill.