VA Education Benefits for Veterans and Active Duty Service Members

Online Training for Veterans and Active Duty Service Members Available
Each year, hundreds of thousands of active duty service members and veterans choose to take advantage of VA Education Benefits while actively serving or go back to school after their military service. For many, it's the single best way to increase a post-military quality of life. Career Technical Institute (CTI) is proud to support Active Duty & Veterans with a variety of training options.
>> Top 5 Questions about VA Education Benefits
>> How to Use Your GI Bill for Certification and Training
CTI offers a variety of career training options:
Online Classes
CTI also offers online classes with web-based course management and collaboration portal for distance learning. Using the Portal, students can access their courses, interact directly with their Instructor, attend lectures, and benefit from a variety of e-Reference materials, all of which are available 24/7. So whether you are actively serving in the military or working full-time, part-time or in between opportunities, we are here to serve you.
Why CTI
CTI is accredited by the Council on Occupational Education and is a registered school operating under a license from the District of Columbia (DC) Higher Education Licensure Commission (HELC). Veterans who attend CTI and meet completion requirements may earn either a Diploma from a certificate program and/or an Associate Degree of Applied Science from a degree program. CTI provides hands-on training and placement assistance in various fields, information technology, healthcare, hospitality, office training, human resources and more.
Valuable members of society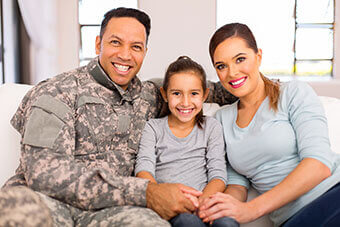 Veterans and active duty service members spent years defending the nation and fighting for the common good. They are the backbone of our country. CTI aims to help veterans and active duty service members transition back into civilian life and move on to the next chapter in their lives. They have learned valuable skills and life experience during their time in military service. CTI is here to help them take the next step towards a brighter future.
Active Duty Tuition Assistance Rate Per Hour
Read More
Contact CTI's military team regarding programs approved for veteran benefits. Fill out the form on the right or call 888-516-5339 today.