Advance your career with computer training
Get Administrative Training Online
Get a great office job as a bookkeeper or office worker with Career Technical Institute's office training programs. The Bureau of Labor Statistics sites 2.9 million jobs for Office Support Professionals, ranking among the largest occupations in the U.S. economy. Many great companies need office support professionals to help run an organization efficiently.
Office Support and Administrative Professionals, such as clerical assistants or bookkeepers, utilize computers and office equipment to perform tasks critical to an organization's success. These tasks include: creating spreadsheets, composing correspondence, managing databases, creating reports and other documentation using computer software, such as Microsoft Office or QuickBooks.
Office support staff are highly valued employees and can move up an organization's ladder quickly with proper training. Career Technical Institute's office training programs offer courses specially designed to give students the skills they need to qualify for good-paying office jobs. With CTI's office training, you can gain a wide-ranging number of sought-after skills, including general administrative functions, such as basic computer skills, public affairs support, document processing, including knowledge of spreadsheets and bookkeeping software.
Is a Career as an Office Professional Right for You?
Take the CTI "Office Professional Career Training Readiness Quiz"
The fun, online quiz takes 3 minutes to complete and you'll get a personalized report. Identify your strengths and social style plus the training and positions you're best suited for. Get Your Office Professional Career Training Readiness score now>>
Excellence in Career Training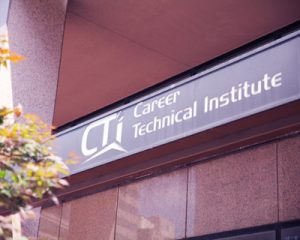 Career Technical Institute is a highly regarded training establishment that offers students quality training and knowledge, hands-on practical experience and employment skills necessary to gain steady employment in a great office environment. CTI is accredited by the Council on Occupational Education and is also a registered school operating under a license from the Washington, DC Higher Education Licensure Commission.
If you are ready to take your skills to the next level, getting started is easy. There are financial assistance and financial aid programs available, for those who qualify, which make it possible to easily afford office support training. Our CTI Financial Aid Office is standing by, ready to help you understand all of your student financial aid options and help you through the application process.
There are financial assistance and financial aid programs available to those who qualify – learn more!