Information Technology Training
Get your IT Degree with CTI
An information technology degree can lead to an exciting career in cybersecurity, programming, software development, or another technology-focused area. As the world becomes increasingly dependent on technology, IT professionals are in greater demand. The Bureau of Labor Statistics is projecting job growth as technology continues to evolve, making IT a creative and ever-evolving field.
The Associate Degree of Applied Science in Information Technology curriculum at Career Technical Institute (CTI) prepares students for up to five CompTIA certifications, including IT Fundamentals, A+, Network+, Security+, and Cloud+.
CTI is ideal for working professionals or busy working parents looking to take their career to the next level. CTI's nationally accredited career-focused IT degree courses allow students to take classes on a schedule that fits their lifestyle.
IT Degree Online or on Campus
Full-time students can complete the entire degree in as little as 60 weeks, while part-time students can complete CTI's Associate Degree of Applied Science in Information Technology program in 84 weeks. An Associate Degree of Applied Science in Information Technology is awarded to students after earning 90 credits. Day, evening and online classes are available.
Online Classes are available with access to our innovative web-based virtual classroom in which students enter their online classroom from anywhere there is internet access. Students will experience regular and substantive interaction with their Instructors via discussion boards, online lectures, phone, email, text, and via our comprehensive Learning Management Systems (LMS). All course material is in one centralized location and can be viewed at any time and not just during your scheduled training.  Included in our online LMS, are electronic books, access to all class surveys, quizzes, tests, email, Dropbox in order to upload assignments, a multitude of videos, and a variety of other learning resources including the e-reference library. Distance Education for this program is offered in all states except for California.
IT Degree Courses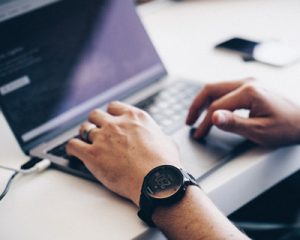 CTI offers an array of IT courses. The Associate Degree of Applied Science in Information Technology program prepares students with knowledge and skills in IT Fundamentals, CompTIA A+ for computer repair, CompTIA Network+, CompTIA Security+, Cloud Computing, Business Skills, Employment Skills, and more. Prior to graduation, eligible students will receive an IT externship to put their skills to work with hands-on experience. Your newly acquired skills will prepare you for multiple CompTIA certifications. There is high demand in both business and consumer markets for educated IT professionals. Having an information technology degree can lead to more opportunities and greater security.
Read More
If you're ambitious about your career, then CTI's Associate Degree of Applied Science in Information Technology can equip you to qualify for a wide variety of good IT jobs.  Get the training skills and knowledge that help you stand out in any hiring opportunity. There are financial assistance and financial aid programs available to those who qualify – learn more!
Take the first step and talk to one of our Admissions Advisors today to learn more about this program.