Information Technology Training
Get your IT Degree with CTI
An information technology degree can lead to an exciting career in cybersecurity, programming, software development, or another technology-focused area. As the world becomes increasingly dependent on technology, IT professionals are in greater demand. The Bureau of Labor Statistics projects a 28% job growth rate for information security analysts by 2026. Technology continues to evolve, making IT a creative and ever-evolving field. The AAS Degree in Information Technology at Career Technical Institute (CTI) prepares students for a variety of IT-focused careers throughout many industries.
CTI is ideal for working professionals or busy working parents looking to take their career to the next level. CTI's nationally accredited career-focused IT degree courses allow students to take classes on a schedule that fits their lifestyle.
IT Degree Online or on Campus
Full-time students can complete the entire degree in as little as 60 weeks, while part-time students can complete the IT degree program in 84 weeks. Day, evening and online classes are available. An IT degree is awarded to students after earning 90 credits. This program may be completed at CTI's Washington D.C. campus or with online IT classes that offer 24/7 course access and substantive instructor interaction. Distance Education for this course is only currently offered in the following states: Alabama, Georgia, Louisiana, Missouri, North Carolina, New Jersey, Pennsylvania, Florida, Texas, Virginia, Maryland, and District of Columbia.
IT Degree Courses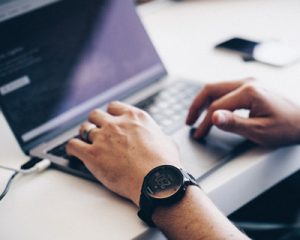 CTI offers an array of IT degree courses. The AAS Degree in Information Technology program prepares students to maintain, build, or repair hardware and software associated with computer systems or other components related to information processing. There is high demand in both business and consumer markets for educated IT professionals. Having an information technology degree can lead to more opportunity and greater security.
Read More
If you're ambitious about your career, then an AAS Degree in Information Technology can equip you to qualify for a wide variety of good IT jobs.  Get the training skills and knowledge that help you stand out in any hiring opportunity. There are financial assistance and financial aid programs available to those who qualify – learn more!
If you would like to learn more about program costs, use our net price calculator for an estimate.
Take the first step and talk to one of our Admissions Advisors today to learn more about this program.