MCSA Certification Preparation Training
Prep for Microsoft Certification
Take your career to the next level with CTI's Microsoft certification preparation program. Microsoft Certified Solutions Associate (MCSA) certification preparation training is the first step in getting a great IT job and getting started is easy!
Microsoft certification is a worldwide industry standard that can help you get a job at a good company and move forward quickly in your career. CTI's Microsoft Certified Solutions Associate certification preparation courses will give you the fundamental knowledge that will enable you to design and create technology solutions in one of Microsoft's core business platforms.
CTI provides up-to-date Microsoft certification preparation classes that offer students a combination of practical technical knowledge and hands-on experience. CTI's MCSA certification preparation courses will give students the ability to install, migrate, manage and support Microsoft desktop and mobile devices at the enterprise level. Students are able to attend either day or evening classes. Most students complete training in about 26 weeks attending day sessions or up to 39 weeks attending evening sessions.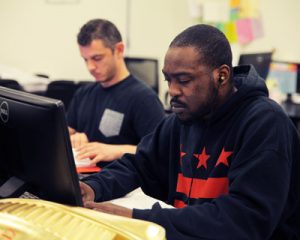 Students will learn:
How to install, configure and upgrade computer systems
Computer Repair
How to diagnose and troubleshoot
How to manage basic networks
How to perform safety and preventive maintenance
How to maintain hardware components
Advanced Server Configuration and Installation
Server Administration
Is a Career in IT Right for You?
Take the CTI "IT Professional Career Training Readiness Quiz"
The fun, online quiz takes 3 minutes to complete and you'll get a personalized report. Identify your strengths and social style plus the training and positions you're best suited for. Get Your IT Professional Career Training Readiness score now>>
CTI students will leave the MCSA preparation training program with a sense of empowerment and the technical skills necessary to administer, support and troubleshoot information systems that incorporate the Microsoft Windows operating system software. With an MCSA, students will be able to prove to employers that they have the ability to improve network performance and optimize return on investment, giving them the opportunity to qualify for many IT job roles, including network administrator and systems administrator. Plus, CTI offers great job search support that can help you find your IT dream job.
If you would like to learn more about program costs, use our net price calculator for an estimate.
There are financial assistance and financial aid programs available to those who qualify – learn more!