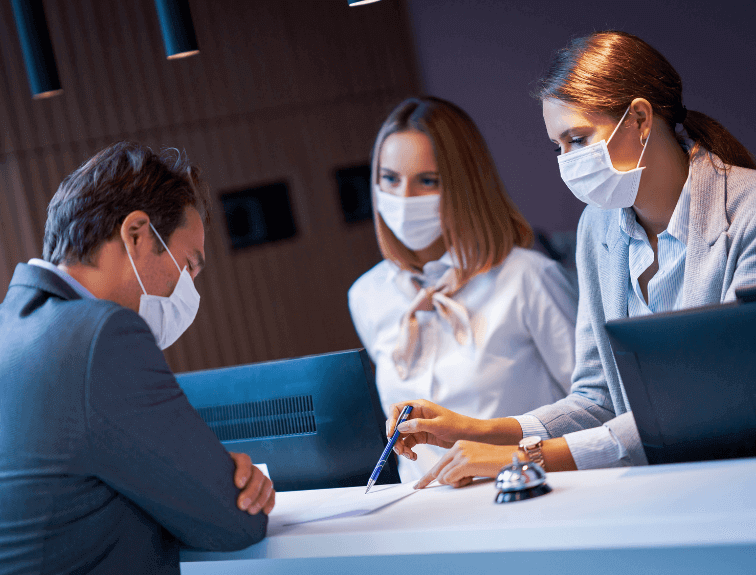 COVID-19 and the Hospitality Industry
What is the Future of Hospitality after COVID?
Though COVID-19 took the whole world for a rigorous spin, there is unanimous agreement that the hospitality industry took one of the hardest hits. Travel spending in 2020 saw a decline of 42% from the previous year, while hotel occupancy dropped 33%. With lockdown restrictions keeping everyone at home, the industry experienced spikes in unemployment, operational limitations, shutdowns, and revenue losses.
But now is the time to regain footing and take advantage of the consequential circumstances. As we get a better grip on COVID, there is more room for business in hospitality to return to normal, or at least a new normal. Here are a few things the industry can profit from as a result of the pandemic.
Job Opportunities
The appetite for leisure, entertainment, and travel is now growing. National parks in the U.S., for example, have already seen huge influxes in visitors since early 2021. After being stuck inside for so long, people are eager to get out and go do things. This is good news for workers in the industry, as pent-up demand will need to be offset by more labor. In fact, the leisure and hospitality unemployment rate fell from 13% in March 2021 to 10.8% in April of the same year. While this does not fully compensate for the losses many saw during COVID-19, the road to recovery is looking a little less bumpy.
Furthermore, the introduction of remote work in response to the pandemic is here to stay. Several companies are implementing hybrid or fully remote operations long-term, which means employees can continue working flexibly from home or other locations.
The Adoption of Technology
Beyond remote work, technology has aided the hospitality industry immensely throughout the reign of COVID-19. Many guests can now check into hotels and even access their rooms from mobile devices without assistance. Smartphone users can place orders from their favorite restaurants through apps and receive meals on their doorstep, contact-free. The capabilities of these technologies not only promote efficiency and ease for customers, but also reduce costs for hotels, restaurants, and other businesses. 
Health and Safety Precautions
The shift to contactless experiences is also beneficial to customer and employee health. Less direct interaction prevents the spread of germs and preserves cleanliness. Additionally, more thorough cleaning procedures brought about by COVID will likely stick around post-pandemic. Thus, both guests and workers can remain confident in their safety while having fun and being on the job. 
Optimism for the Post-COVID Hospitality Industry
Despite an inevitably long road to recovery, it's clear that positivity can be found amidst adversity. Normalcy may look a bit different going forward, but the joys of leisure and entertainment will encourage people to keep doing the things they love. Crowds will return to sporting arenas and music venues. Travelers will fill their calendars with flights and hotel bookings, and friends and family will gather for meals at restaurants, just like before. As companies continue to embrace change and new approaches to business, the future of hospitality will thrive. Employers look to Career Technical Institute to train the dedicated professionals the hospitality industry needs now and in the future.
CTI is proud to offer comprehensive degree programs for individuals wishing to begin their careers. Contact us today to start your future!
General , Hospitality
topics