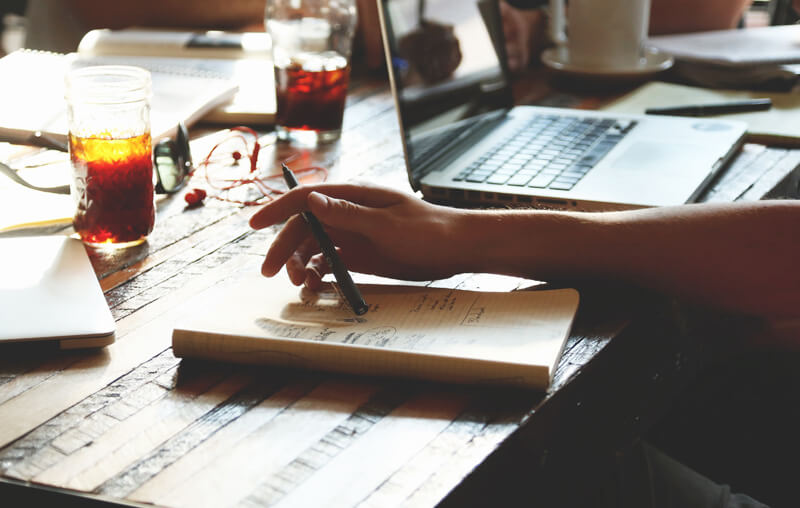 Ultimate Study Guide for Students
Updated March 18, 2022
Everyone has struggled with studying during their academic careers. It's hard to study with so many distractions like beautiful weather outside, hanging out with friends, and the lure of mobile devices. These distractions take precious hours away from studying. Furthermore, these distractions may put you in a situation where you have to "cram" for important exams. Cramming for tests not only leaves you with less time to sleep, which everyone needs to stay focused, but it also makes it less likely that you will retain the knowledge you need to learn. Here is the ultimate study guide for students. This will help you develop good study habits.
#1 Block off time for studying.
It is not impossible to have a full day of fun, work, family and studying time. The key to being able to balance everything is to take very small sections of your day and block it off for studying. If you have a test and you know that it has five in-depth sections that you need to prepare for, reserve one hour a day for ten days; this will give you 2 hours to study each section. Studying for one hour each day, is much easier than cramming for a test the next day. Create a calendar item on your mobile device for that hour with alerts to remind you when that hour will occur. That hour might occur during breakfast before work, at lunch, or after work.
#2 Avoid distractions during study time.
During study time, turn off your mobile device's notifications. Also, turn off other distracting screens like television. If you have roommates and this is an impossible task, consider the library. The library is guaranteed to be quiet and will give you the ability to focus on what you need to learn. It's okay to study with friends as long as that study time does not become a distraction. If you find that your study partner makes it impossible to focus, then find a new study partner or study alone.
#3 Create a study strategy.
Solid organization when preparing for a major test is a must. Divide what you need to study into sections that you can learn in one-hour allotments. Trying to learn too much information all at once is a huge mistake. Your brain can only consume so much information at one given time. Time management must be a part of your study strategy. After you divide which sections you need to study into one-hour allotments, create a schedule for study time leading up to the test.
Also, determine what kind of learner you are. Some people are visual learners, flash cards or reading often work well for these types of individuals. Some people are auditory learners; these people often learn better by listening to podcasts or videos. Figure out what works best for you and get the most out of your study time.
#4 Get help when you need it.
Advanced coursework can be overwhelming. If the material isn't sinking in, don't sit there in silence waiting for magic to happen. Go find someone who understands the material, whether it be someone from school or someone on YouTube. Sometimes it takes someone to explain it in a different way for you to be able to understand the material.
There are also many online study platforms, such as Quizlet and GoConqr, that allow students to make flashcards, do practices quizzes, and engage in other online study techniques. These platforms also allow you to share your study materials with your fellow classmates as well as students around the world!
Finally, as the saying goes, more brains are better than one, which is why many students favor forming or joining in-person or online study groups. This study technique can not only help you retain more information but can enhance your other studying skills.
#5 Get at least 8 hours of sleep before a test.
In order to focus, you NEED to be well rested. Furthermore, if you want your brain to be able to recall newly acquired information, you need sleep. According to researchers, sleep plays a significant role in declarative memory (the knowledge of fact-based information) by processing and consolidating newly acquired information.  Without adequate sleep and rest, over-worked neurons can no longer function to coordinate information properly, and we lose our ability to access previously learned information.
If you've followed this guide and broken up your study time into allotments the days and weeks leading up to your test, then you should have plenty of time to sleep. Don't underestimate your brain's need for rest. At night, your brain gets rejuvenated and no amount of caffeine can rejuvenate your brain like sleep.
Where can students get training for their career?
CTI offers a variety of programs in the healthcare, hospitality, information technology, human resources, and office administration fields. Students may take day or evening classes in Washington DC or take Online Classes from the comfort of their own home. Admissions and Financial Aid Advisors are available Monday through Friday during business hours to answer your questions and help you understand what funding may be available to you. Financial Aid is available to those who qualify.
CALL 1-888-516-5339 for info ABOUT NATIONAL ONLINE CLASSES OR CAMPUS VOCATIONAL TRAINING IN WASHINGTON DC.