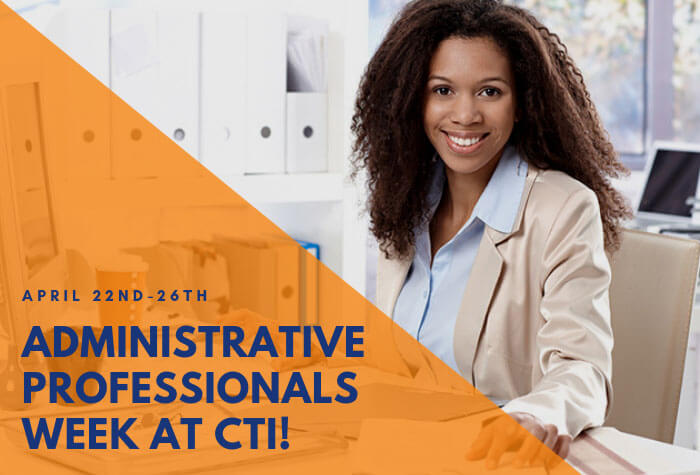 Celebrate Administrative Professionals Week 2019
Learn More About Becoming an Administrative Assistant
More than 22 million administrative professionals throughout the country are devoted to providing valuable work to their businesses. That's why we celebrate Administrative Professionals Week April 22nd – 26th!
Since 1952, the International Association of Administrative Professionals (IAAP) has honored administrative professionals' contributions by celebrating Administrative Professionals Week. The technical skills, communicative abilities, and steadfast work ethic of these professionals is often the key to keeping an organization functioning properly.
Attributes of Administrative Professionals
Many of us interact with administrative professionals on a daily basis, however, they're most commonly known as administrative assistants. These professionals demonstrate exceptional communication skills, including written and oral skills, and are capable of working independently or within a team.  Administrative assistants are tech-savvy,  proficient typists, highly organized, and understand various word processing software programs.
The responsibilities of administrative professionals can vary from day-to-day. During a typical work week, administrative professionals may be called upon to complete clerical and administrative tasks. They may facilitate project management, assist with scheduling, conduct project research, or compile reports. Assisting the business staff members requires responsiveness and organization.
Ways to Celebrate Admin Professionals Week 2019
There are so many different ways to celebrate administrative professionals this week. Whether you work in an office or are just an appreciative customer, there are a few simple ways to celebrate administrative professionals week!
If you have an admin professional in your life, you could bring gifts to that admin. The gift could be something for the entire staff to enjoy or just something for the assistant themselves. You could bring a floral arrangement, treats, or a gift card, for example.
If you're the boss of an admin professional, don't miss out on celebrating them this week! It's the perfect time to acknowledge the important role they play in the office. You could decorate your office, encourage customers to join the celebration, or take your assistant out to lunch to show your appreciation.
Pursue a Career with Administrative Training
As long as businesses exist, there will be a need to keep them organized. One of the best parts of becoming an administrative professional is that there are endless job opportunities to choose from. Multiple industries need admin professionals in order to keep everything running smoothly. There are also a lot of opportunities to work remotely in the office admin field.
Although a formal college degree is not always a requirement of this career path, completion of a training program is highly recommended. Completing an Office Administration training program will help make you stand out from other applicants. Career Technical Institute can get you trained and ready for your new career!
Contact us today to see if you have eligible credits! CTI Admissions Advisors are ready and waiting to hear from you!