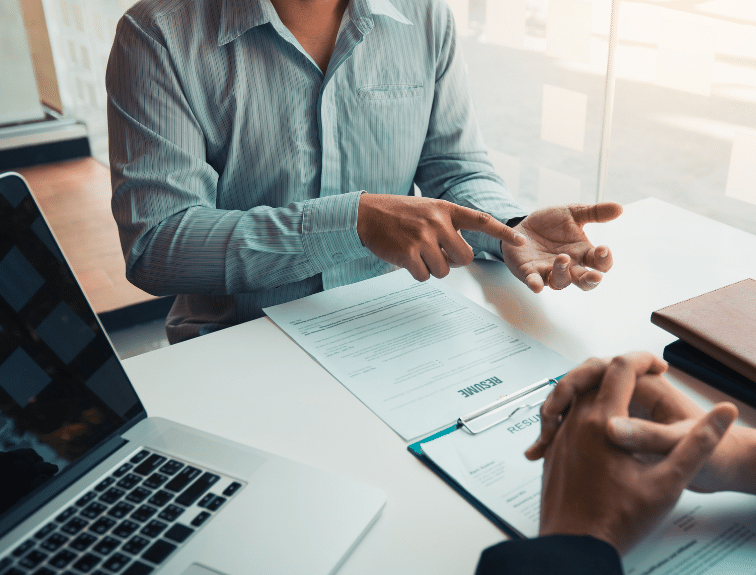 The Essential Role of Human Resources
How HR Contributes to a Business Success
A company is only as successful as the people it employs. Accordingly, human resource departments, responsible for managing the personnel component of business, exist as a staple across industries. Human resource professionals work in all types of organizations; companies with varying needs and goals hire them. However, no matter where HR professionals are employed, they perform similar tasks in this essential role. Learn more about how human resource professionals facilitate positive relationships between an organization and its employees, discover how they contribute to business productivity, and consider whether pursuing a degree in human resource administration from Career Technical Institute is right for you.
Hiring and Recruiting
Finding the right mix of talent and experience to fulfill a business's needs is a delicate balancing act. It requires understanding a company's history, current make-up, and goals for the future. A human resource professional needs to have a finger on the pulse of the company. An HR department must understand what they are looking for in an employee and how to best locate their next employee to progress as an organization. This important task, when aligned with overall leadership goals, is a key component to future success.
Recruiting has changed in the digital age. There is now an increasing reliance on social media, job boards, and applicant tracking. What hasn't changed is the importance of the interview for both the applicant and the potential employer. Although most of us have some experience being interviewed, many of us have never conducted an interview. Asking the right questions, reading between the lines, thoroughly preparing, and questioning applicants consistently are among the interviewing skills that help Human Resource professionals locate the best candidates.
Training and Professional Development
A big-picture understanding of how to initiate new employees sets the tone and informs first impressions. It requires a Human Resource department that understands the skills needed to perform a job and the knowledge new employees require to be successful at a specific company. With a little forethought and clear communication, many potential stumbling blocks can be avoided, and hires can feel supported, confident, and optimistic about their new roles. Employee motivation and retention contribute significantly to the bottom line. HR professionals who understand this key role continually evaluate and improve this process.
Human Resources can be a win-win situation for employers and employees. Access to workshops, seminars, conferences, trade shows, and continuing education facilitates employee growth and brings increasing skills and fresh ideas into an organization. Workers feel valued and inspired, and business benefits from an infusion of energy, networking and connections, and the latest developments in the field.
Employee Advocacy and Conflict Resolution
Communication is the cornerstone of human resources. Nowhere is this more on display than when advocating for employees and resolving conflicts. These roles include many tasks. They tap into those sought-after soft skills that contribute significantly to a workplace culture that is responsive, inclusive, and positive.
In the role of employee advocate, Human Resource professionals strive to create and maintain clear channels of communication to better understand employees' needs. They encourage employee buy-in through goal-setting and personal responsibility. Ideally, this fosters mutual respect, trust, and increased motivation, all part of a flourishing environment.
Exit interviews are an optimal way for Human Resource professionals to grow in the role of employee advocate. When employees are moving on, they are often ready to candidly share their experiences and offer insights into what has worked and not worked for them at your company. It's an ideal opportunity to identify areas in need of improvement so that your business can more effectively engage and retain its workforce.
When workplace conflict occurs, resolving disputes often falls, at least in part, to the Human Resource department. Though companies follow various procedures for conflict resolution, active listening and pre-established ground rules are essential. A calm presence and commitment to finding a fair solution deescalates disagreements and contributes to a more positive work environment.
Employee Compensation and Benefits
Pay and benefits represent the bottom line for employees; it's what they take home at the end of each pay period that keeps them coming back every week. Businesses vary in how they handle compensation; they often outsource payroll, health coverage, and the management of other benefits to specialists. However, Human Resource professionals contribute to company practices by understanding and advocating for competitive pay and benefits packages to attract employees. HR may also be responsible for proposing company bonus and incentive plans to motivate the workforce.  Aiding an employer in better understanding the types of compensation and benefits packages that attract and retain employees creates the conditions that effectively carry the business into the future.
Compliance
Human Resource professionals are responsible for compliance with labor and employment laws. Understanding the applicable laws, safety standards, and industry best practices in your field and advocating for strict adherence to these standards is crucial for employers and employees. Employees will be more satisfied and productive working for a company that conducts business safely and ethically. For employers, compliance means they will avoid costly fines, potential lawsuits, operational interruptions, and ill will, all of which impact profitability.
Human resources is a multi-faceted, engaging career that offers professionals something new every day. Since the goal is to facilitate the best possible relationship between a company and its employees, it's a career that allows for creative thinking and innovation. There are endless opportunities to improve understanding and communication and unique ways to motivate and support workers in their chosen field.
Pursuing a Degree in Human Resource Administration
If you are interested in using your communication skills in an industry designed around helping people thrive in the workplace, a career in human resources may be the right fit for you. Online courses at Career Technical Institute make it easier than ever to pursue your goals for the future. From planning and career counseling to navigating your future job search, our career development program will support you every step of the way. With financial aid available to those who qualify, you can work at your own pace toward a new role in this growing field.
FOR MORE INFORMATION, CALL 888-516-5339 TO TALK WITH A CAREER TECHNICAL INSTITUTE ADMISSIONS ADVISOR TODAY.