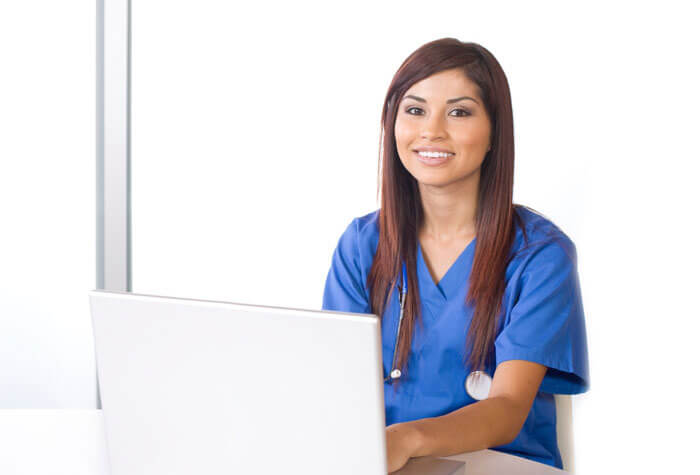 Medical Office Career Options
Updated May 12, 2022
Choose from a variety of Medical Office Career Options
Becoming a Medical Office Professional is a great career choice! According to the Bureau of Labor Statistics, this career produces a reported median salary of over $52,000 and has a nine percent projected growth in the next ten years. Not to mention, 37,100 jobs are expected to be added every year from now until 2030!
Speaking of jobs, the medical office career options are endless! There are opportunities to work in doctors' offices, nursing homes, hospitals, insurance companies, or even colleges or universities. Keep reading to see what these jobs entail, and how you can get started in one of them!
Medical Receptionist
Medical Receptionists can be found across several industries such as dental practices, colleges, or medical offices. They greet patients, answer phones, take care of scheduling, and sometimes billing. Medical Receptionists carry out many other administrative tasks such as taking care of emails and filing any paperwork.
Medical Assistant
A medical assistant can play various roles in a medical office and perform a variety of duties. However, the two main roles of a medical assistant are assisting other medical professionals in the office and performing clerical tasks. Clinical tasks vary depending on the work environment but generally involve preparing patients and assisting during appointments.
Health Information Technician
The Health Information Technician works primarily with medical records. They review, process, and update patient medical records in accordance with regulatory requirements. As a Health Information Technician, you would also file insurance claims, manage medical record collections both in printed and electronic form.
Medical Records Administrator
Similar to a Health Information Technician, the Medical Records Administrator also works primarily with medical records. The Medical Records Administrator is typically the head of the medical records maintenance department and supervises employees such as Health Information Technicians. They must ensure the department's compliance with standards and security of the sensitive information they are transmitting.
Medical Transcriber
A Medical Transcriber may work in a medical office, hospital, a third party transcription service, or they may be self-employed. Their main duty is to transcribe audio files containing notes or reports from healthcare professionals. They listen to audio files and turn them into written files. The Medical Transcriber is expected to deliver accuracy when interpreting medical files.
Medical Claims Clerk
Medical Claims Clerks are typically employed by insurance companies. They discuss medical insurance coverage to customers and review medical claim documents. The Medical Claims Clerk is responsible for determining if a claim qualifies for coverage by the insurance company. Medical Claims Clerks are expected to pay close attention when analyzing a customer's medical issue or procedure.
Medical Insurance Biller or Coder
Medical Insurance Billers or Coders can be found in typically any medical practice. The Medical Insurance Biller or Coder works with insurance companies. They interpret medical procedures into codes which they later submit to the patient's insurance company for payment. Medical Insurance Biller or Coders also analyze medical records, collect referrals, create reports, and resolve any relevant conflicts with the patient's insurance company.
Technician
A Technician may work in any medical setting such as a hospital, clinic, nursing home, or doctor's office. The duties of a Technician depends on which work environment they choose. They may work primarily alone or alongside physicians and other medical staff. The responsibilities of a Technician typically include administering tests, recording results, cleaning medical instruments, and handling specimens and patient samples.
Are you interested in pursuing one of the Medical Office Professional careers listed above? Career Technical Institute offers hands-on career training that can give you the skills you need to excel in your new career as a Medical Office Professional.
Contact us today to see when the next Medical Office Professional classes begin!