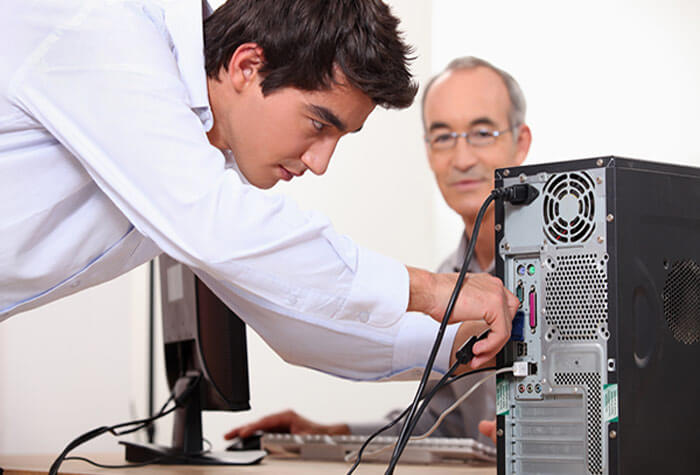 5 Signs You're Ready for IT Classes
Start taking your IT Classes at CTI
You want to become an IT professional but aren't exactly sure if you're ready for IT classes, Career Technical Institute can help you get started! Here are 5 signs that you're ready to start taking IT classes at CTI.
You have more than a casual interest in computers.
Maybe you are the person your co-workers turn to with computer questions because you're talented at troubleshooting. Perhaps you enjoy learning all you can learn about advancements in technology, and you tinker with electronic gadgets at home. Maybe you've even taken a course or two to learn more about programming, just for fun. However, it manifests, you've noticed you have a sustained interest in working with computers, and you are energized by the idea of increasing your knowledge and expertise.
You are ready for a career change or a first career.
Only you can decide whether you are ready to pursue a new career. Consider your feelings about your current field. Frustrations are a typical part of any job, but if you find yourself regularly experiencing stagnation, exhaustion, and feelings of emptiness, or if you feel your talents are not appropriately utilized, it's time to consider a change. If you're looking for your first job, it's important to do plenty of research to learn more about your desired career path before you begin your IT training.
You're considering different career paths within the IT field.
The field of information technology is broad, IT professionals have a variety of career paths to choose from. It helps to have a general idea of the IT job you want so you can train for that position specifically. Start to envision yourself in different roles to find one that is most suited to your talents and professional goals. Not sure where to begin? We've got your back in this blog article, we explore different IT career paths available in Information Technology!
You are willing to invest time in pursuing a new career.
Life is busy for all of us and it sometimes feels like there will never be a perfect time to take on the additional responsibility of taking IT Classes. It might seem overwhelming at first, but trust us, it's worth it to invest in a meaningful future. With a proven track record of helping people get hired in great new careers, Career Technical Institute will be right there to support you. The Career Services team at CTI supports students ensuring they reach their goals and land a new job they'll love!
You've explored your IT training options.
It's important to consider all options before you decide on where to attend IT classes. You'll want a hands-on training program that can prepare you for your new career in Information Technology. Career Technical Institute offers IT classes that can open doors to a variety of IT career paths. CTI also offers financial aid programs to help you finance your education because nothing should stop you from reaching your goals!
Contact us today if you're ready to learn from the pros!
Information Technology
topics