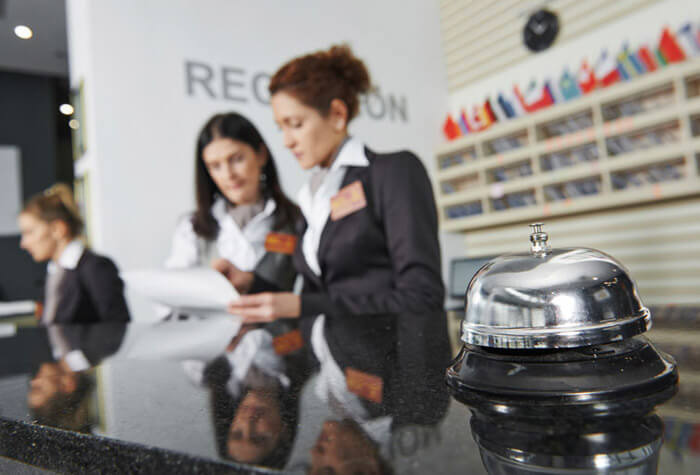 How a Hospitality Degree Advances Your Career
Learn how hospitality classes help you succeed!
A hospitality degree can improve your customer service skills. Exceptional customer service is crucial to the success of a business, especially in the hospitality industry. Making a positive impression and addressing the needs of guests is essential to the bottom line. Hospitality classes can help prepare you for a successful career!
How would a hospitality degree influence my career?
The hospitality industry can sometimes be competitive. While it isn't always a requirement of the job, it's a smart decision to get a hospitality degree. Completing hospitality training will give you an advantage over other applicants, help you earn more money, and allow you to advance within the field.
Not only does this career path provide you with a variety of options for getting in on the ground floor, but the hospitality industry is diverse enough to provide ample opportunity for growth.
What would I learn in hospitality training?
Since hospitality includes a multiple of job options, training covers a variety of different topics. Class topics may include accounting, administration, finance, human resources, marketing, and public relations. The skills you'll gain through your hospitality degree can be applied to a variety of sectors. So if you choose to work in another industry later in life, much of what you've learned can still be applied.
Where could I work with a hospitality degree?
Hospitality professionals can be found in a variety of fields. They may work in hotels, resorts, or spas, helping guests settle in and explaining the services offered. They can also be found hosting at a restaurant or planning events for an organization. Their job is to pay attention to every last detail, ensuring guests are comfortable and feeling cared for.
Another fun job opportunity for hospitality professionals is to work in the gaming industry, or on cruise lines. Here they are responsible for aiding guests in finding the experiences and services they seek. With so many employment options available in the hospitality industry, you are sure to find a career path suited to you!
How much would a hospitality degree cost?
The cost of tuition for a hospitality degree will vary depending on what financial assistance you may qualify for. Career Technical Institute is approved by the U.S. Department of Education to participate in the Title IV Federal Financial Aid Program. Our trained Financial Assistance staff can help guide you through the application process and answer any questions you may have.
We'll help you hone your communication skills and creativity, and teach you how to apply them to an exciting new career you'll love.
Are you ready to get a competitive edge with a hospitality degree from Career Technical Institute? Contact us to learn more about our hospitality programs!